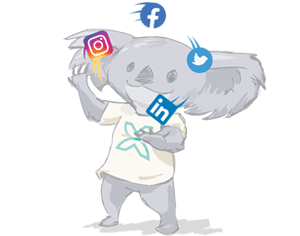 All businesses should be considering social media as part of their overall marketing strategy. These channels are very important to develop and maintain lasting relationships with your audience. Are your social channels helping you meet your business goals? A strong social media strategy is the best way to make sure you get results. Whether you're looking for some advice or training or someone to completely take this off your hands, Koala Digital can help. We can provide social media reviews and an overall strategy for your social channels. Alongside this we can run in house training for your teams. We also offer social media management services which means that you can leave it with us to handle on your behalf.
Social Media Strategy
Our social media strategy consultancy will involve detailed research and advice on which channels work best for you. It also includes customer service moderation and content planning. We'll review your current design, content and customer service responses. Meaning, we can provide advice on content suggestions, recommended times to post and assistance with drafting responses to your customers; helping you to keep up your brand's reputation.
Social Media Management
Setting up a new business is very hard work so sometimes things can slip. To compete with algorithms it's very important to stay up to date with social trends and updates. Posting engaging content regularly will ensure you remain visible on your customer's feeds. With Koala Digital's expert social media management, we will create, schedule and analyse your content on all of your social channels, including Facebook, LinkedIn, Twitter & Instagram. Our team will act as an extension of your brand to ensure that your business reaches new customers and work hard to maintain your reputation.
Keeping your social platforms up to date can be a chore! If you're finding that it's too much to handle, then don't hesitate to get in touch and find out how we can help relieve some of that stress.