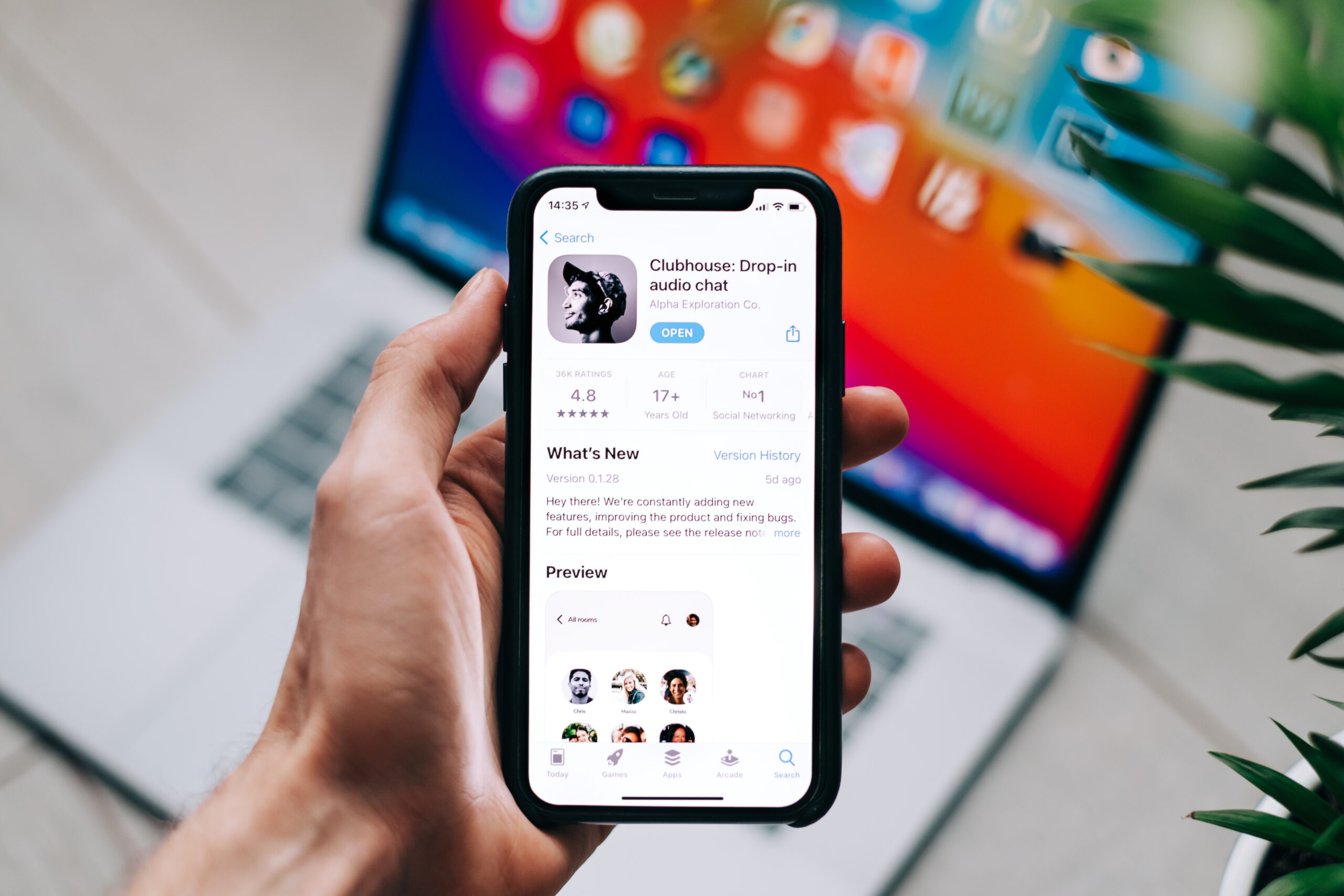 What is Clubhouse?
Over the last couple of weeks, I have been on stage with Kelly Holmes, eavesdropped on Deadmau5 & Tom Green (yes random!?) I've listened to an interview with Jay-Z, witnessed Theo Paphitis lose his Clubhouse virginity and gained a hell of a lot of knowledge from SEO expert, Neil Patel (Nerd alert). I've also been on stage providing SEO advice to small business owners (whilst in my PJs) How?! Clubhouse, of course!
Wait, what? You still haven't heard of Clubhouse?! Well, for those of you who haven't, it's a new 'highly exclusive member-only social media app that's currently only available for the iPhone crew. (It's still in private beta).
Because Clubhouse is invite-only and still not available to Android users, many have recently logged in for the first time.
I know I've certainly been a little bit addicted since joining a couple of weeks ago! As with new social media platforms, learning about Clubhouse's features has been a little bit overwhelming so I thought it would be helpful to write a blog about my learnings so far.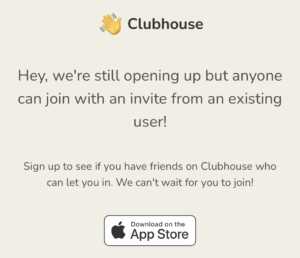 What I love about Clubhouse
It provides the opportunity to connect and engage with professionals that you'd likely never meet on any other platform. It's filled with spontaneous rooms based on a complete variety of topics. I've joined a club called Too Broke for Therapy which has featured incredible people sharing stories and advice/coping mechanisms to support mental health, I've been in lots of business rooms, listening and sharing advice, some awesome live lounge/karaoke style rooms (only to listen!) and some local networking events too. I've even created a club for Carlana Marketing called Business Mouth! I love that the emphasis for this platform is on real-time conversations rather than curated content. Finally, I love that it's audio only! I often struggle with social anxiety and hate speaking on stage in front of lots of people. On Clubhouse I'm in my element, I love having a natter on the phone and I love listening to podcasts and the radio and this is exactly how I feel when I'm on Clubhouse. It's been a fantastic experience so far and has massively improved my confidence and communication skills.
So, if you like the sound of that, check out my instructions below…
How do I join Clubhouse?
The app is invite-only. Currently, when joining, each member is allowed to invite 2 people to join (and will receive more after further engagement). Be sure to check that your invitees have an iPhone though (I learnt that the hard way). They'll also need to register with the phone number that was added to the Clubhouse invitation. When you register you can add a photo, username and password.
You can also request to join to get added to a waiting list too.
Choosing topics
Next comes choosing topics that you're interested in (you can choose to update this at any time). Next, you can choose to provide access to your contacts to show who's already on Clubhouse so you've got the option to follow them.
Setting up your profile
Here's the important part. Here you can add a photo, write about your hobbies, interests and career. This will help potential followers decide whether to follow you and will help optimise your profile within the app's search, so be sure to include keywords! Make sure you're setting this up as you rather than your company name as it's against Clubhouse's policy to set up as a company, you have to be a real person. Make sure you're certain with your username as I don't think it's easy to change.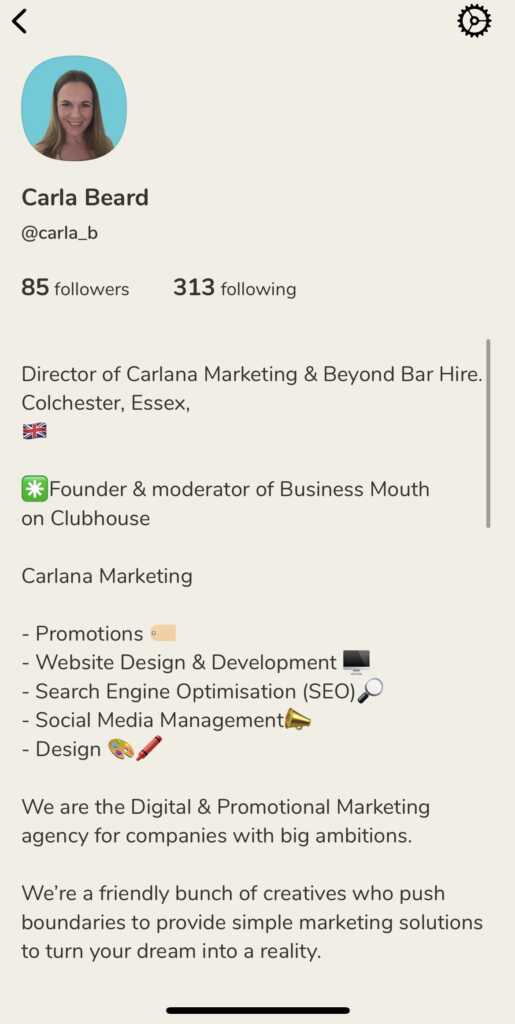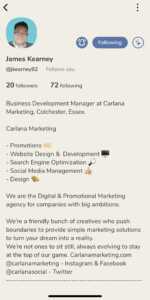 If you search @carla_b, Carla Beard or Carlana Marketing, you should be able to find me on Clubhouse easily, because this information is in my bio. Give me a follow and please join our club by searching for Business Mouth! You can also search by emojis too, so if you love emojis like me, go to town on it! ??
Finally, the only clickable links are Twitter & Instagram. Here I've added my personal accounts. I've actually used this opportunity to create a new, additional Instagram account specifically for my working life. On Clubhouse you cannot message people so a lot of people will reach out to you on Instagram. So, rather than people seeing my dinner and copious pics of my daughter, I thought I'd set up a professional account. @carlabeardwork on Instagram if you want to give me a follow!
The Hallway
Once set up you'll be taken to the 'hallway' (the main feed). This will show you open rooms that you can join. If nothing in the hallway tickles your fancy, scroll all the way to the bottom and then click explore to load more. To see more, you'll need to follow more people. You cannot search for a room, only clubs or people to follow, however in the 'explore section' you can search for clubs about particular topics. The Hallway is also where you can start your own room.

You can access the menu at the top. This is where you can:
Search for a club or member using a name or keyword
Invite contacts to join the Clubhouse app – when you invite someone to join they'll receive a text message from you letting them know you've invited them.
View the calendar with upcoming rooms – you can toggle between 'Upcoming for You' and 'My Events'.
Review your notifications – when someones followed you, someone you always follow is speaking or when a room of someone you follow opens
Or view and edit your profile.
Settings – here you can update your notification frequency, connect/disconnect Twitter and Instagram and view the boring and important bits like privacy policy etc, and also get access to FAQs.
So, what's a room?!
So take a scroll through the hallway, have a little nose through the rooms available and then jump into a conversation that's of interest to you, it's as simple as that! Whether you want to have a natter with a few pals about football whilst you're washing up or want to take the centre stage on an entrepreneurs convention, the world's your oyster! In the hallway you'll see the public rooms or you can start a private room with one or more of your connections. To find out who is online and available to chat, swipe left. This will then show who is available and which room they're in.
When you first join a room, you join as a listener. This means you don't have to access the microphone, so you can just sit back and listen. While you listen, you can tap on people's profiles to have a little snoop about who you're listening to/with. While you're in the audience you can still head back to the hallway by clicking 'all rooms' but can remain in the audience until you leave the room. This way you can check your emails, catch up on socials but will still keep your seat in the room.

If you want to have a chat on stage, raise your hand and wait for a moderator to invite you to become a speaker.
If this happens then I suggest you instantly mute your microphone (bottom right hand corner) and then unmute once you're invited to speak or have something to contribute to the current conversation.
Once you've finished speaking I recommend you wait a couple seconds before muting just in case there's a slight lag. Every room is different and its up to moderators how they run the room however with most of the larger rooms I've been in, it's common practice for moderators to invite a select amount of speakers on stage and allow a couple of minutes for each person to speak and then will do their best to answer any questions and then move people back into the audience. In smaller rooms you'll probably find most people up on stage with more of an open mic.
Some little behaviours/ tips I've found. To offer a round of applause, flash your mic several times and if you hear the phrase PTR, this basically means to refresh the room so you can update your view and see exactly who's on stage and in the audience. If you see a party popper emoji (or ?) on someone's image, it means they're new to Clubhouse. This will disappear as the person engages more and more.
Rooms with multiple moderators can go on for hours so when you're ready just hit 'leave quietly' no need to say bye as it disrupts the atmosphere.
To become a moderator you can open a new room or an existing moderator may promote you to moderator in a room that you're in. As a moderator you'll be able to invite or accept requests for people to speak, promote people to moderators, mute speakers or send speakers back to the audience.

How to start a room on Clubhouse
To start a room straight away, tap 'start a room' add a topic and select the privacy setting. Be sure to set the correct topic here as you won't be able to amend this but you will be able to change the privacy settings, should you wish.
Make sure you create a closed room if you want it to be private. I created a room with my colleague James and suddenly 5 or 6 people were in the room with me! The rooms are not permanent and will end as soon as everyone leaves or as soon as a moderator closes a room.
To schedule a room go to 'upcoming for you and click the calendar button to schedule one in advance.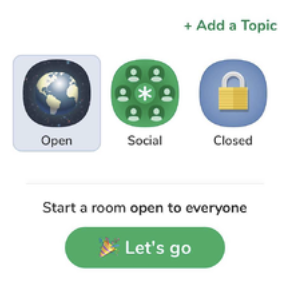 What's a club on Clubhouse?
Clubs are to create communities. Clubs can create private rooms for members only or public for anyone to join.
So let's round this blog up by giving a plug to our new club Business Mouth.
Business Mouth is a relaxed club for businesses to chat, offer free advice, share business stories and network.
Whether you're looking for a service, some free industry tips or fancy some general chit chat, the stage is yours so feel free to join a room as a listener or a speaker, or both!
Rooms every Tuesday at 10-11am.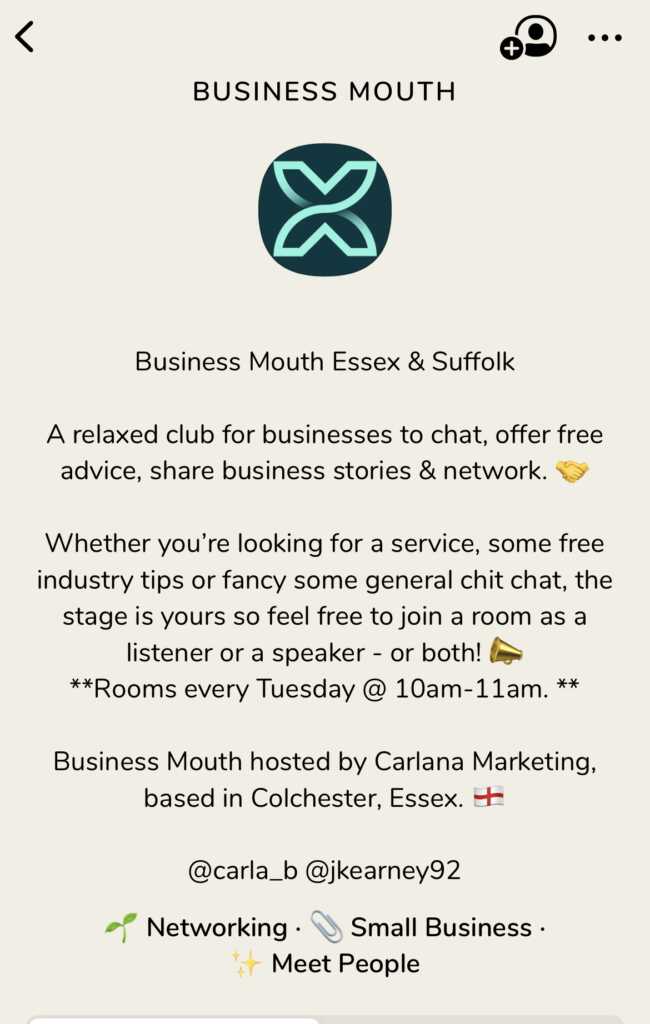 If anyone would like a walkthrough on Clubhouse then please give myself @carla_b or @jkearney92 a follow and jump in a private room and we'd be more than happy to show you the ropes! We look forward to speaking with you. Carla x