The holiday season is within reach!
December is a month filled with excitement and cheer, so it's important to fill your social media with lots of festive fun!
To make sure you're all set to sleigh the social media game, Koala Digital's social media content calendar December edition is here!
Unwrap our content calendar December edition below and get writing!
KOALA DIGITAL SOCIAL MEDIA CONTENT CALENDAR DECEMBER 2023
1st – World AIDS Day
2nd – Small Business Saturday
3rd – First Sunday Of Advent
4th – Wildlife Conservation Day
5th – International Volunteer Day
6th – St Nicholas Day
7th – Hanukkah
8th – National Brownie Day
9th – International Anti-corruption Day
10th – Human Rights Day
11th – Green Monday
12th – International Universal Health Coverage Day
13th – Day Of The Horse
14th – Monkey Day
15th – Mad Friday
16th – Stupid Toy Day
17th – Maple Syrup Day
18th – World Arabic Language Day
19th – National Emo Day
20th – International Human Solidarity Day
21st – Short Story Day
22nd – Winter Solstice
23rd – A Blue Christmas
24th – Christmas Eve
25th – Christmas Day
26th – Boxing Day
27th – Visit The Zoo Day
28th – Call A Friend Day
29th – Tick Tock Day
30th – National Bacon Day
31st – New Year's Eve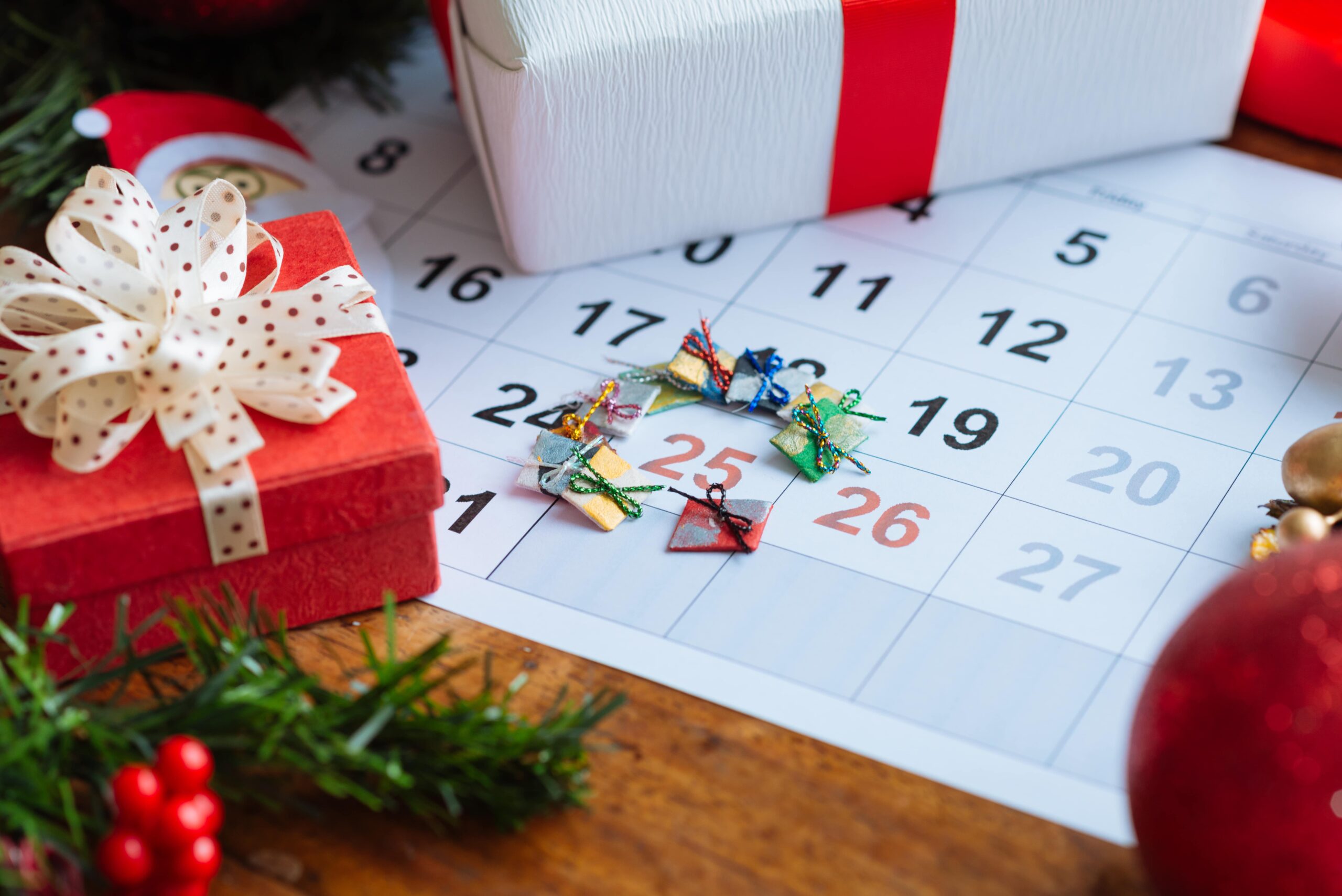 Small Business Saturday is on the 2nd of December – a great day to start the month off right.
This day is all about showing some love to small businesses. You can give a shout-out to your favourite small business on social media, ask your followers about their faves, or even share some of the awesome stuff or services you've snagged from small businesses. It's a win-win – you help those businesses get noticed, and you show your followers that your company loves showing support!
If you want to shine a spotlight on your own small business, start the day by introducing your company to new followers. Share your story, culture, and what you're all about. Show off what your small business can offer with videos to get more exposure. You can also offer discounts, and promotions, or even run a giveaway where followers can enter by liking and tagging to boost your reach!
Don't forget to use the #SmallBusinessSaturday hashtag, so that those searching for businesses to support can find you.
Use the season to post some magic!
In the run-up to Christmas, it's a good idea to select some random days to post some festive fun.
If your company has awesome items or services that make perfect Christmas gifts, make some noise about them! Show off those goodies with images and videos across your social media all through December.
If you're an establishment that could host Christmas parties or New Year's dinners, post about your offerings and give early birds a sweet deal with discounted rates!
To add a dash of Christmas spirit, let your followers in on the fun your staff are having as the big day approaches. Maybe you've had a Christmas jumper showdown where your followers can cast their votes for the winner, or perhaps you threw a staff party, and you've got some hilarious pics or goofy stories to share from the festivities!
To give back to your followers, consider hosting a Christmas giveaway or offering special festive discounts! Spread the holiday cheer!
Finding our social media content calendar December edition useful? Make sure to contact us for more social media tips!
We all know New Year's Eve falls on the 31st. As the last day of the year, this is the time to take a step back, reflect on 2023, and get personal.
On this special day, it's a great idea to extend a warm welcome to all the fantastic new followers you've gained throughout the year, while also sending a big thank you to your loyal customers for sticking by your side through another successful year.
Your post should be about looking back at all the amazing things your company has achieved in the past year, and what you're aiming for in the year ahead. Share a video or a collection of photos that sum up your business's journey over the past 12 months. Write about the experiences, the hurdles you've conquered, and everything that's brought you to where you are today.
New Year's Eve is the perfect day to get closer to your followers and build a deeper connection between business and customer.
Make sure to wish your followers a Happy New Year, and get ready for what 2024 will bring!
Finding our social media content calendar December edition useful? Contact us to let us know!
What a year it's been!
As we wrap up the final month of 2023, it's also the grand finale of our Koala Digital social media content calendar for this year!
We hope you've found our content calendars super helpful and that you've had a blast boosting your social media game. Creating and sharing these calendars with you has been an absolute joy. Each month brought fresh and fun ideas!
We've loved creating, sharing and seeing your platforms thrive and succeed so much, we've got a shiny new 12-month content calendar lined up for 2024 – and it's all yours, absolutely free!
That's right, we're supplying you with another whole year of FREE social media ideas and planning help once again!
All that's left to say is, see you 2023, hello 2024!
Koala Digital Social Media Content Calendar December 2023