With a new month on the way, our social media content calendar September edition can make sure your social media strategy is the best it can be. Read on to find out more!
Here at Koala Digital, we can't wait to welcome in September. The month marks the end of Summer, but the start of Autumn. This means we can begin to enjoy cosy nights, Autumn walks and cooler days.
As the leaves begin to change, it could also be time for you to change up your social media strategy. Our social media content calendar September edition aims to aid those wanting to connect with their audience with a whole bunch of engaging social media ideas for every day of the month.
Whether you're a newcomer to our platform or you've been following along since the start of the year, we've got you covered for the rest of it!
For now, dive into the Koala Digital social media content calendar September 2023 and get creative!
KOALA DIGITAL SOCIAL MEDIA CONTENT CALENDAR SEPTEMBER 2023
1st – World Letter Writing Day
2nd – International Bacon Day
3rd – Skyscraper Day
4th – National Payroll Week
5th – International Day Of Charity
6th – National Read A Book Day
7th – Beer Lovers Day
8th – International Literacy Day
9th – World EV Day
10th – National Hug Your Hound Day
11th – Hot Cross Bun Day
12th – Gym Day
13th – Positive Thinking Day
14th – Colouring Day
15th – Tradesmen Day
16th – British Food Fortnight
17th – World Patient Safety Day
18th – World Reflexology Week
19th – International Talk Like A Pirate Day
20th – National Fitness Day
21st – World Peace Day
22nd – World Rose Day
23rd – Forest Week
24th – World Rivers Day
25th – International Week Of Happiness At Work
26th – Human Resource Professional Day
27th – World Tourism Day
28th – Ask A Stupid Question Day
29th – Worlds Biggest Coffee Morning
30th – International Podcast Day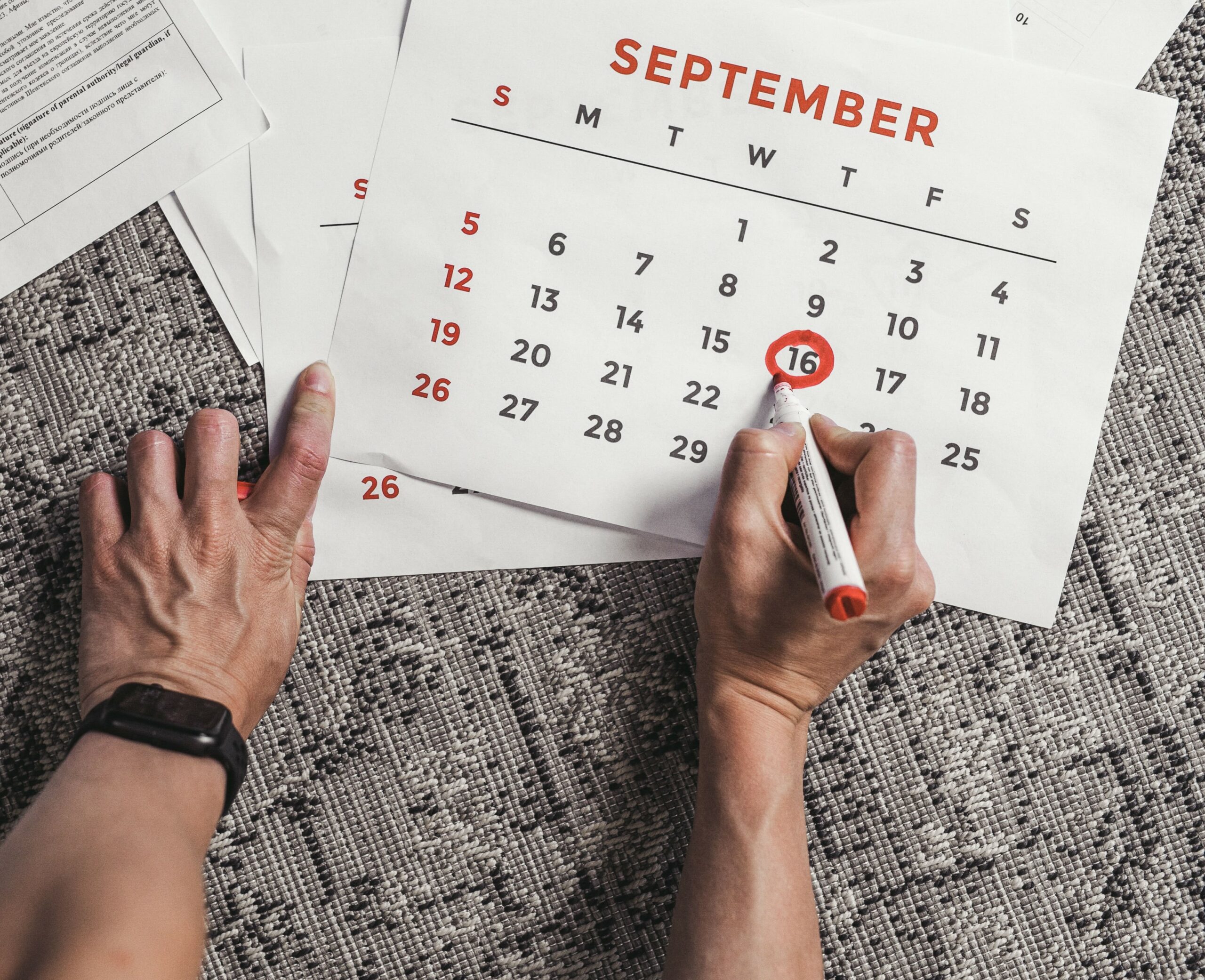 For those in the finance industry, the 4th of September is National Payroll Week!
During this week, finance and payroll professionals have a great opportunity to shout about their services while also educating their audience about the significance of efficient payroll management.
Whether you choose a get-to-know-the-payroll team post, share behind-the-scenes glimpses of the payroll process, share payroll case studies to help build trust and credibility or highlight why your company's payroll solutions are the best, use National Payroll Week as a way to showcase payroll and why it's important to get it right.
Speaking of payroll professionals, let us introduce you to the experts at 123 Easy Books. Skilled in all things bookkeeping and payroll, the 123 Easy Books team can ensure reliable and timely finance solutions. With National Payroll Day on the horizon, there's no better time to check out 123 Easy Books!
Mark the date, Beer Lovers Day is on the 7th of September!
There's so much opportunity to get creative and have some fun on this day. Whether you're a bar, a brewery, a restaurant or you're just a beer enthusiast, Beer Lovers Day is the perfect excuse to raise a glass to this beloved beverage and take to social media!
Whether you choose to showcase your diverse beer selections to drive sales, host special tasting events to attract an audience, offer a special one-time discount on beers at your bar or showcase your most popular beer brand, there are plenty of ways to use Beer Lovers Day to your advantage.
Even if you're not in the beer industry, you can still join in the celebration by snapping a shot of yourself and your company enjoying a beer in celebration (not on work time, of course!) or by supporting local bars and breweries near you.
Looking for a way to celebrate Beer Lovers Day? Take a look at Beyond Bar Hire!
With a whole range of hirable bars and drinks equipment, you can celebrate Beer Lovers Day in style.
Beer Lover's Day opens up a whole range of ways to attract an audience on social media – so get planning. Cheers to a day dedicated to the love of beer!
Finding our social media content calendar September edition useful? Make sure to contact us for more social media tips!
World EV Day is on the 9th of September.
This day is dedicated to uniting electric car enthusiasts to celebrate the new generation of vehicles. The day involves those who use EV charging for their electric cars to meet up and enjoy a day of emission-free driving.
Electric cars are changing the way we drive. They not only contribute to a greener planet but also offer long-term savings to drivers, all while ensuring a smooth and quiet ride.
But of course, electric cars wouldn't be possible without EV chargers. Thanks to skilled installers like Orton & Wenlock, having an EV charging point installed in your home is now more accessible than ever before.
Positive Thinking Day is on the 13th of September.
Positive Thinking Day is a special occasion that encourages us all to embrace the power of positive thinking. It's a reminder that our thoughts have a significant impact on our lives and those around us. Adopting a positive mindset can not only improve your days at work but overall your life.
Whatever industry you're in, Positive Thinking Day is a great day to get posting. Take it as an opportunity to share some love, practice gratitude, and inspire your followers to think positively.
This can be done by sharing inspiring quotes, posting about the things you are thankful for (this could be the hardworking employees at your company or your loyal customers!) or simply spreading kindness in the form of offering your customers a discount code to say thank you.
This day is especially important for those in the life coaching or therapy industry. This is a chance to showcase your unique skills in helping people change their mindset and overcome the obstacles in their lives.
Share some positivity on Positive Thinking Day!
Finding our social media content calendar September edition useful? Contact us to let us know!
Following on from the good vibes is International Happiness Day At Work on the 25th of September.
Again, this is a day anybody can get involved with – and it offers plenty of excellent ways to get your audience engaged.
Use the day to express appreciation for your employees' dedication and hard work, by organising a fun team day out or awarding your workers with a special treat. This not only boosts morale in the workplace but also shows your audience that you are a business that values its employees.
Offer glimpses of your company's behind-the-scenes moments that capture the fun and positive energy within your workplace. Share inspirational quotes, motivational messages, or tips for cultivating happiness and well-being at work. The opportunities are endless on International Happiness At Work Day.
The 26th of September is Human Resource Professional Day.
For those in the HR industry, it's your time to shine! Spotlight your services, reintroduce yourself to your existing audience, and extend a warm welcome to any new followers through your social media.
Even if you're not directly involved in HR, chances are, if you run a business with employees, you rely on a dedicated HR team or point of contact. These individuals work tirelessly to ensure that your employees receive unwavering support in every situation. Take a moment to give them a well-deserved shout-out as a token of your appreciation.
Here at Koala Digital, we use the amazing Blue Tree HR Solutions  for all of our HR needs. The team is always at the ready to assist, no matter the challenge. If you're looking into outsourcing your HR needs, or your in-house HR department needs advice, be sure to check out their HR support page to see what they have to offer!
How can we help you?
Crafting a winning social media strategy can be a challenging task. With the Koala Digital social media content calendar September 2023, you can create an entertaining and intriguing social media plan with ease.
What's the best part? All this content is free, every month for the whole year!
If you found the social media content calendar September edition useful, let us know by contacting the team!
If you're hungry for more strategies to grow your business success, contact the Koala Digital team today!
Keep your eyes peeled for our spooky October edition!
Koala Digital Social Media Content Calendar September 2023