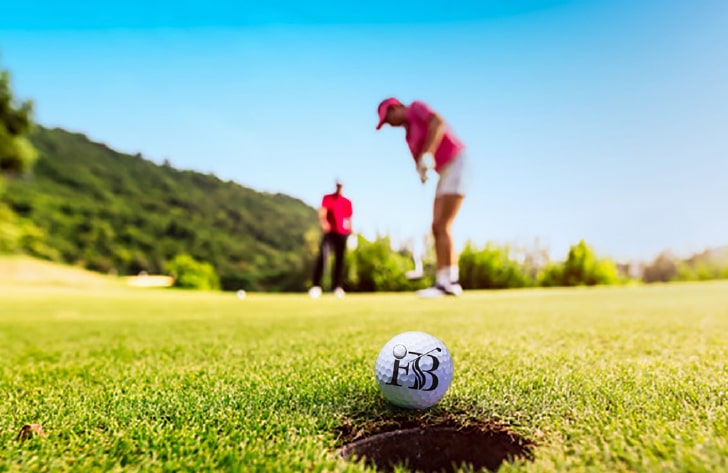 Business networking events have always been an excellent way to meet local business owners, create partnerships, forge new ties, and win new clients. Over the years, several of the team at Koala Digital have attended a variety of great networking events, and we have been fortunate enough to win several clients from these, as well as meeting a whole host of interesting and inspirational people along the way!
Can Business Networking be fun?
But as engaging and useful as these networking events can be, describing them as fun… well that could be stretching it a bit! Could it be possible that there could be a business networking event that could be beneficial to our growth, whilst providing a bit of fun at the same time? Well as it turns out, if you play golf then the answer is most definitely yes. As Lee, our Content Manager, who is horrendously bad at golf but extremely eager to improve, found out to his pleasure!
Enter "FORE" Business
Back in the summer of 2020, Lee was introduced to the incredible "FORE" Business networking group by Nigel Feakes, owner of Colchester IT, a fantastic local IT solutions and computer repair business. "FORE" Business is an international golf networking community founded in 2013 by networking visionaries Sean Fergusson and Arron Bust, that offers its 1,600+ members the opportunity to network WHILE playing golf. When Lee found out he could play golf on behalf of Koala Digital AND network for the company at the same time, he jumped at the opportunity! Although at this point we should probably point out that when we say Lee is 'playing golf', what we really mean is he is hacking up the Suffolk countryside with his unorthodox swing and sky-high handicap. But while saying Lee is 'playing golf' is open to interpretation, the fact that he is successfully networking certainly isn't!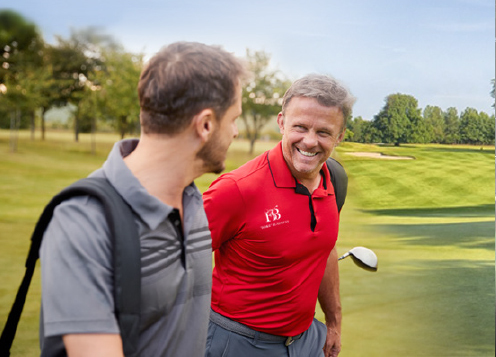 "FORE" Business works like this; for a very reasonable monthly fee, you are assigned to a local group, which could have anywhere from 10-30+ permanent members. Your group meets once a month, and the day consists of bacon rolls with tea/coffee, followed by an opportunity to pitch to the whole group, before being allocated into a four-ball for your round of golf. This then gives you a further 4 hours or so (or maybe more if you are unlucky enough to be put in Lee's group…) to really get to know your fellow attendees and their business. This model is such a breath of fresh air compared to other business networking events, as you can really get to know someone over a friendly game, and the referral opportunities provided by your fellow members add an additional advantage that is sometimes missing from other types of business networking. There is even an option to visit other groups to further expand on your business networking opportunities, and the team at "FORE" Business hold regular annual tournaments to allow members from all over the country to meet, compete, and complete plenty of business networking! Should you be unable to attend a national tournament then you are free to attend the weekly zoom meeting which is available to all members.
Notable "FORE" Business members
As Content Manager for a Colchester marketing agency, it made sense for Lee to join the local Colchester group, which had around 15 members when Lee joined back in 2020. Fast forward 18 months and the Colchester group has grown to 30 members, proving what a popular and successful concept "FORE" Business is. The home course for this group is the beautifully maintained Stoke by Nayland Resort in Suffolk, which offers two demanding courses, allowing the group to alternate between courses each month. Business guru Adrian Peck, of Better Never Stops, does a fantastic job heading up the Colchester group, and is supported by a man who shoots people for a living, video production maestro Alex Cameron of Depiqd Ltd, plus Jon Creese of WPA, who are just like BUPA, but a little more super. The game itself is based on the Stableford scoring format, with the member finishing with the highest score winning that month's game. Unbelievably, and to the utter amazement of both Lee and every member of the Colchester group, Lee has managed to win two of these events since joining! Ironically, it seems that the word bandit doesn't feature in this Content Manager's vocabulary…
But more importantly than the outrageous wins, Lee has formed firm friendships with many of the members of "FORE" Business, which in turn has led to multiple business opportunities for Koala Digital (which of course is the core reason for any type of business networking!) Koala Digital have also begun working with the brilliant Melanie Knight of Blue Tree HR Solutions. Mel has provided Koala Digital with her expert HR services on several occasions which has been of great help!
Why not join Lee on the course?
Lee feels the entire experience, from the first meeting until the present day, has been tee-riffic (sorry!), and he highly recommends any golfing enthusiast who likes to network to join this unique and incredibly fun group. "FORE" Business offers a 'Golden Ticket' to any prospective member, which offers a free month's trial membership that includes 18 holes of golf, entrance to a networking event, plus an additional free four-ball that can be used at your local group's course. The total value of this free trial is £69, and although there is no obligation to continue after the first month, Lee is confident you will become a long term member like him.
Get in touch with Lee directly and he will arrange a 'Golden Ticket' on your behalf. Don't miss out on this un"FORE"gettable experience, contact Lee, and may the course be with you!